Have you ever found yourself in a discussion about racial division and felt overwhelmed and just plain, well…stuck?  It takes courage to step into the daunting unknowns of racial conversations.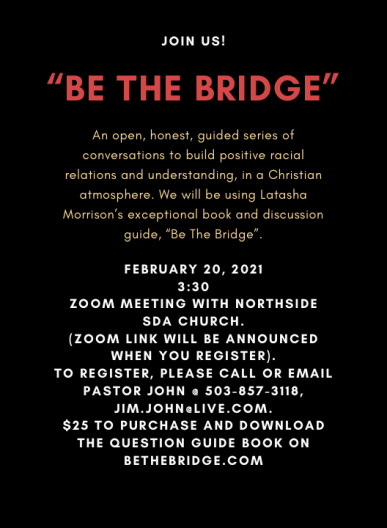 We read Jesus' words in John 17 about how the body of Christ must be one and He even sets a standard for us to be perfectly united.  But how?  In a world full of racial division – how can we shine as bright lights for Jesus?  How do we become an authentic witness and a faithful voice for racial unity?
The Anchorage Northside Church, an ethnically diverse congregation, is launching a new outreach to help get us unstuck by facilitating conversations that have the potential to heal racial divides as we journey toward our ultimate goal of racial reconciliation.  
In 2 Corinthians 5:18 Paul forcefully states that Christ "gave us the ministry of reconciliation."  We want to provide you tools as we navigate conversations and work to build relationships.  
The Bible describes racial unity as many differently shaped, differently functioning body parts coming together to form a single, unified body of Christ.  This is our goal and it is our sacred honor to do the necessary work to achieve this goal.
We desire God to be glorified.  We want the church to be credible.  We want Christians to develop biblical tools that empower us to be the bridge between people divided by racial and cultural differences.     
Group sessions beginning on Zoom this Sabbath, February 20, 2021 @ 3:30.  Email Pastor Jim John or text (503) 857-3118 to register for the Zoom link.  Meetings will occur every two weeks.  The next meeting after this Sabbath is March 6.